DEER FEED
"Proper nutrition is a major key in harvesting Monster Bucks!"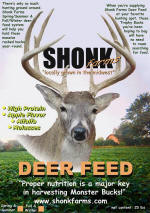 There's only so much hunting ground around. Shonk Farms Spring/Summer & Fall/Winter deer feed system will help you hold those massive racked bucks year-round. When you're supplying Shonk Farms Deer Feed at your favorite hunting spot, those Trophy Bucks you've been hoping to bag will have no need to roam searching for food. Shonk Farms Deer Feed is locally grown in the midwest. It has high protein, apple flavor, alfalfa and molasses. To learn more about Shonk Farms Deer Feed, purchase it, find a store in your area that carries it or inquire into a dealership, click here.
Shonk Farms is a diversified operation. We do so much more than produce Deer Feed.